Volunteers urgently needed to Raise Up Washington in 2016!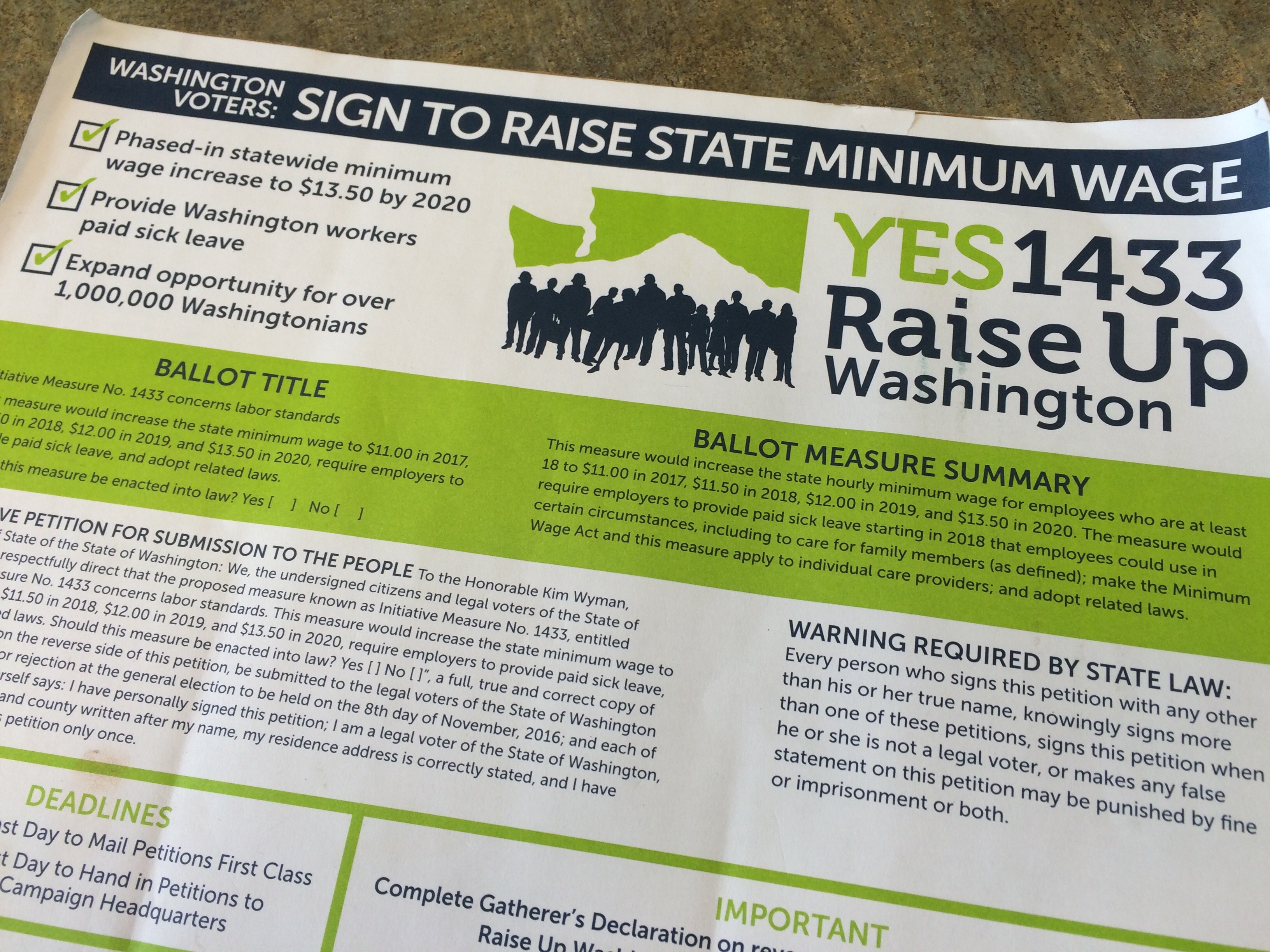 Across the country, people are fighting back against rising income inequality, and we have an opportunity to bring the fight here to Washington.
Raise Up Washington, a coalition of concerned Washingtonians and labor, faith, and community groups, is launching a statewide ballot initiative to support working people. Initiative 1433 would raise Washington State's minimum wage from $9.47 to $13.50, phased in over four years, and allow workers to earn paid sick and safe leave.
Together, we can ensure that no one who works full-time has to raise a family in poverty, but it's going to take all of us working together to make it happen. Will you join thousands of working people across Washington who are helping collect signatures to put I-1433 on the ballot?
YES! I'll help Raise Up Washington in 2016!
In most places in Washington State, neither individuals nor families meet basic needs working full-time at the current minimum wage of $9.47. With your help, Washington voters will have the opportunity to vote YES on I-1433 to raise wages and provide common sense paid sick leave, key elements of a healthy economy and workforce.
Please call 206-254-4930 or click here to volunteer so together we can:
Raise Washington State's minimum wage to $13.50 by 2020
Provide Washington workers with earned paid sick leave
Expand opportunity for over 1,000,000 Washingtonians
The wage increase would be phased-in over four years, beginning at $11 (2017), $11.50 (2018), $12 (2019), and $13.50 (2020). The measure also would allow workers to earn one hour of paid sick leave for every forty hours worked, so workers can take care of themselves and their family when sick without fear of being fired or losing a day's wage. Employers who provide higher wages or more generous paid leave are not affected by these changes.
Raise Up WA field staff is organizing volunteers across the state to gather signatures at stores and farmers markets, or simply to gather from friends and family.
You can order your petitions online or call Raise Up WA today at 206-254-4930 to join the team. You will receive all the materials and training you need to get started.
Let's do this!
September 12, 2023
Except billionaires. And even they lose.
September 6, 2023
Thanks to the work of advocates, thousands of Washington workers are already getting a better deal at work
August 24, 2023
Multiple states are also fighting to tax the ultra-wealthy. Why now?