Upcoming Events
Past Events
Espresso and Economics – March 10th, 2023, 10:30am – 12pm – The Station Cafe
Espresso and Economics – February 10th, 2023, 11:00am – Makeda and Mingus Cafe
EOI's Changemakers Remixed – September 15th, 2022 5:30pm – Axis Pioneer Square
EOI's Changemakers Dinner – September 29th, 2021 – 5:30pm – 7:15pm, Online
EOI's Changemakers Dinner is today! Registration is now closed, but you can click here for event details including the event program, link to donate, and more. Having trouble joining the event? Email info@opportunityinstitute.org or call (206) 529-6350 and we will assist you shortly.
EOI's Passing the Baton Fun Run – Anytime until June 13th
We are hosting a virtual fun run (or walk, bike, skate, etc.) in celebration of 23 years of EOI's legacy and passing the baton to the new generation of EOI leadership. Kick-off your summer by joining us in running toward a brighter future!
EOI's Passing the Baton Wrap-Up Party – June 12th, 2-3pm, Gasworks Park
Help us celebrate founding Executive Director, John Burbank, and incoming Executive Director, Summer Stinson, at our Passing the Baton Wrap-up Party! Enjoy some sun, socially distant company, homemade cookies, and hear from John and Summer about what this moment means to them and what's ahead for EOI. No registration required.
Event Details:
Date: Saturday, June 12th, 2021
2:00pm – 3:00pm
Location: Gasworks Park, near the playground.
Look for an EOI sign.
Building a Brighter Future Together – January 7, 2021 12:00pm – 1:00pm, Online
Join us on Zoom for a discussion on the 2021 Legislative Session and how YOU can power and amplify the work to build a brighter future.
You'll hear from EOI's team of policy experts on what they'll be focusing on this year and from our Advocacy Director Gabriela Quintana on how you can use your voice and power. We will also open the floor for a Q&A.
We hope to see you there, and kick off the New Year with hope and momentum!
EOI's Virtual Changemakers Dinner – September 15, 2020 6:00p.m. – 7:30p.m.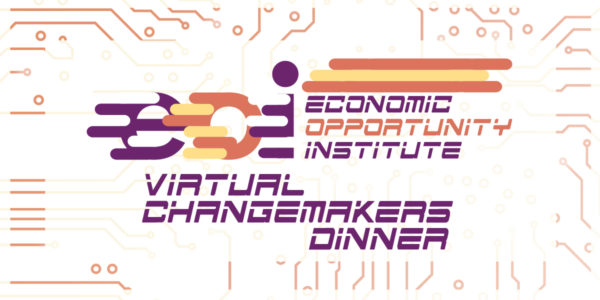 Each year, our dinner draws supporters, activists, legislators, and friends to celebrate progressive policy victories and re-focus on our shared vision for the future. Join us from the comfort of your home as we celebrate another year of progress!
Event Details:
Date: September 15, 2020 5:30p.m. – 7:30p.m.
Location: Online
To prioritize public health and safety, the Changemakers Dinner will be all-virtual, but that won't make it any less of a party. We'll be enjoying the same fun policy games, festive cocktail hour, engaging program, and even dinner and drinks for delivery and pick-up!
EOI's Fireside Chat – May 28, 2020
Join EOI's Executive Director John Burbank and Policy Director Marilyn Watkins for an intimate virtual Fireside Chat. You'll hear updates and expert analysis on our rapidly changing economic landscape and have the opportunity to ask John, Marilyn, and the EOI staff your most burning questions.
Grab a beverage and cozy up to the fireplace (or your computer screen) to reflect on the sudden crisis brought on by COVID-19 and to think about how we can use this moment to create substantive, lasting change for working people in Washington State and beyond.
Fireside Chat: 4:15-4:45
Doors open for mingling and trivia: 3:45pm