Remembering My Friend Bill Gates Sr.
This week we lost a humble public citizen, Bill Gates Sr. Bill understood his responsibility to use his power for the benefit of the greater good, to work for a state and a world in which all people have a good quality of life.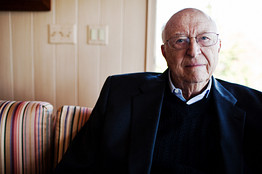 A child of the great depression, a graduate of Bremerton High School, a member of our armed forces for three years during World War II, and a UW and law school graduate thanks to the GI bill, Bill understood with his own experience and his soul the fundamental importance of public services for the people of our state. He also never tired from this work. After his retirement from his law firm in 1998, he went to work to build the greater good. Many of the tributes pouring out for Bill focus on his work building the Gates Foundation and serving on various boards. I got to know, admire, respect and love this man because of his devotion to a just state tax structure to fund public services.
Bill chaired the Washington State Tax Structure Study Committee in 2002. This committee recommended a progressive income tax to enable appropriate and full funding for public services, including education and health care. That report fell on deaf ears. But Bill did not give up.
In 2005 Bill led the effort for a state estate tax, recognizing that estates worth millions and billions of dollars created the biggest transfers of intergenerational wealth, privilege, and income to the children of the already privileged, and, if not taxed, succeeded only in diminishing funding for public services for all generations. While opposed by the Seattle Times, Bill's effort succeeded later that year, when the Legislature passed the most progressive state estate tax in the country. The people agreed, validating that tax with three-fifths of voters supporting the tax in an initiative in 2006.
That was a step, but only one rung of the ladder for progressive taxation and the full funding of public services. In the midst of the great recession, when our state was cutting back services and, in so doing, deepening and lengthening the recession, Bill became the standard bearer and spokesperson for Initiative 1098. That initiative embodied Bill's belief in government and the personal responsibility of the wealthy. Initiative 1098 stated that "It is the intent of the people to create a new trust fund dedicated to improving education and health services and providing middle-class tax relief by reducing the state property tax by twenty percent and eliminating the business and occupation tax for all small businesses, to be funded by an excise tax on joint income in excess of $400,000 or in the case of individuals $200,000 dollars".
That initiative would have taxed the top 1%, in a state in which poor people paid over 17% of their income in state and local taxes, the middle class paid 10%, and the wealthy paid less than 3%. The power elite came down hard on Bill Sr., raising over $6 million to defeat Initiative 1098. The Seattle Times opposed this initiative, over and over again. A coterie of incredibly wealthy white men, including Steve Ballmer, Jeff Bezos, Jon Runstad, John Nordstrom, and Barry Ackerly, among others, threw in at least $100,000 each to make sure that they wouldn't be subject to a 9% tax on their income in excess of $1 million. Bill led the campaign for Initiative 1098, even being filmed in a dunk tank for a TV ad. Unfortunately, the naysayers prevailed, Initiative 1098 went down to defeat, and public services for the people of our state, including health care and education, were cut by billions of dollars.
But Bill continued his public service. One of my best memories of Bill is driving him to a Washington Education Association annual meeting and seeing him talk with, listen to and honor the hundreds of teachers in the hall, and watching them return that respect to a true leading citizen of our state who honored them.
In his twilight years, Bill still came to the annual Economic Opportunity Institute dinners, the last being in 2017. At that occasion, we were again able to honor him and thank him for his work for all the people of our state. That was how our organization said goodbye to this great man. Our memory of Bill inspires our work today, tomorrow and into the future, in building the commonwealth of our state.
EOI partnered with Bill Gates Sr. for passage of the state estate tax and Initiative 1098.
December 5, 2023
We represent all of Washington State - so we decided to drive around it.
November 27, 2023
Apply by January 5th, 2024
November 21, 2023
This one is personal.