Daughter of WA Representative steals show during debate over wage transparency bill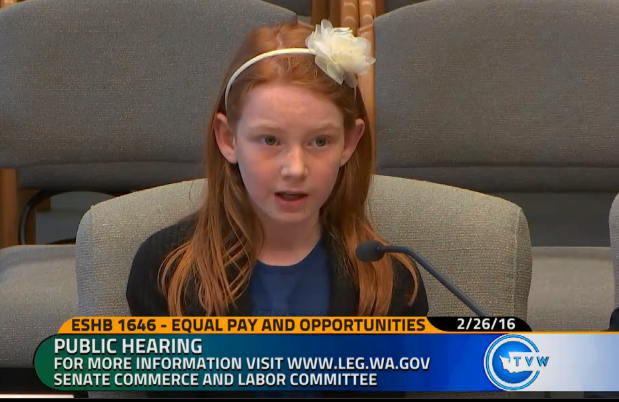 Washington State Representative Tana Senn's 10-year-old daughter, Rachel, stole the show at a recent hearing when she urged the Senate Commerce & Labor Committee to pass her mother's pay transparency bill:
"This bill doesn't say bosses must share everyone's pay with everyone else, it's just giving women the opportunity to ask if they are being paid less," Rachel Senn said. "When I grow up, I don't want to live in a world where women are paid less, and I really don't want to live in a world where women don't know if they are paid less, and they can get fired for exercising their first-amendment right of free speech."
You tell 'em, Rachel! (Watch Rachel and Rep. Senn here on TVW at the 14:40 mark.)
Full story: Geekwire »
January 25, 2023
High health care costs are driving Washington workers and families over the edge
December 15, 2022
By strengthening the core pillars of our economy – including child care, health care, educational opportunity, economic security, and our public revenue system – we can diminish economic, racial, and gender inequity.
December 7, 2022
The way our state raises money is not fair. A wealth tax would help right that wrong.