Daughter of WA Representative steals show during debate over wage transparency bill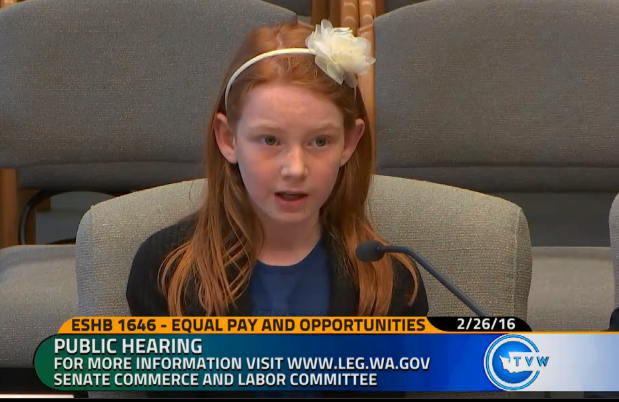 Washington State Representative Tana Senn's 10-year-old daughter, Rachel, stole the show at a recent hearing when she urged the Senate Commerce & Labor Committee to pass her mother's pay transparency bill:
"This bill doesn't say bosses must share everyone's pay with everyone else, it's just giving women the opportunity to ask if they are being paid less," Rachel Senn said. "When I grow up, I don't want to live in a world where women are paid less, and I really don't want to live in a world where women don't know if they are paid less, and they can get fired for exercising their first-amendment right of free speech."
You tell 'em, Rachel! (Watch Rachel and Rep. Senn here on TVW at the 14:40 mark.)
Full story: Geekwire »
September 28, 2023
To understand the needs and priorities of our state's different regions, EOI is listening to the people and communities most impacted by our policy priorities.
September 12, 2023
Except billionaires. And even they lose.
September 6, 2023
Thanks to the work of advocates, thousands of Washington workers are already getting a better deal at work