A Fair Deal at Work
Retirement Security
Filed Under Research
START – Save Toward A Retirement Today
Retirement plans for small businesses and the self-employed are limited, costly and difficult to use. Which explains hwy 77% of small business employees (fewer than 100 workers) and 80% of very small business employees (fewer than 10 workers) have no way to save for retirement at work.1
When you don't have good options, you can't make good choices. 1 in 4 Washington residents (462,000 people) age 45-64 have $25,000 or less in savings.2 3 of 5 middle-class Washington retirees can expect to outlive their financial assets.3 
START (Save Toward A Retirement Today) is a public-private partnership that opens new markets to business. Managed by private sector firms under contract with the Washington State Investment Board, it offers participating businesses basic, low-cost, age-indexed retirement funds. It helps reach a long unserved market: moderate-income employees of small businesses in Washington state.
START is designed to be an affordable, flexible option for small businesses and the self-employed. It offers a "plug and play" retirement savings option with low overhead, an optional employer contribution, and employee auto-enrollment. Employees choose from a few simple, high-quality products with low fees and realistic investment requirements.
It's an option that Washington's small business owners support:4
73% agree Washington should do more to help small business owners prepare for retirement
63% support START-style legislation so the self-employed and small businesses can establish a basic retirement option.
60% would offer a retirement plan if an affordable option was available that fit their needs.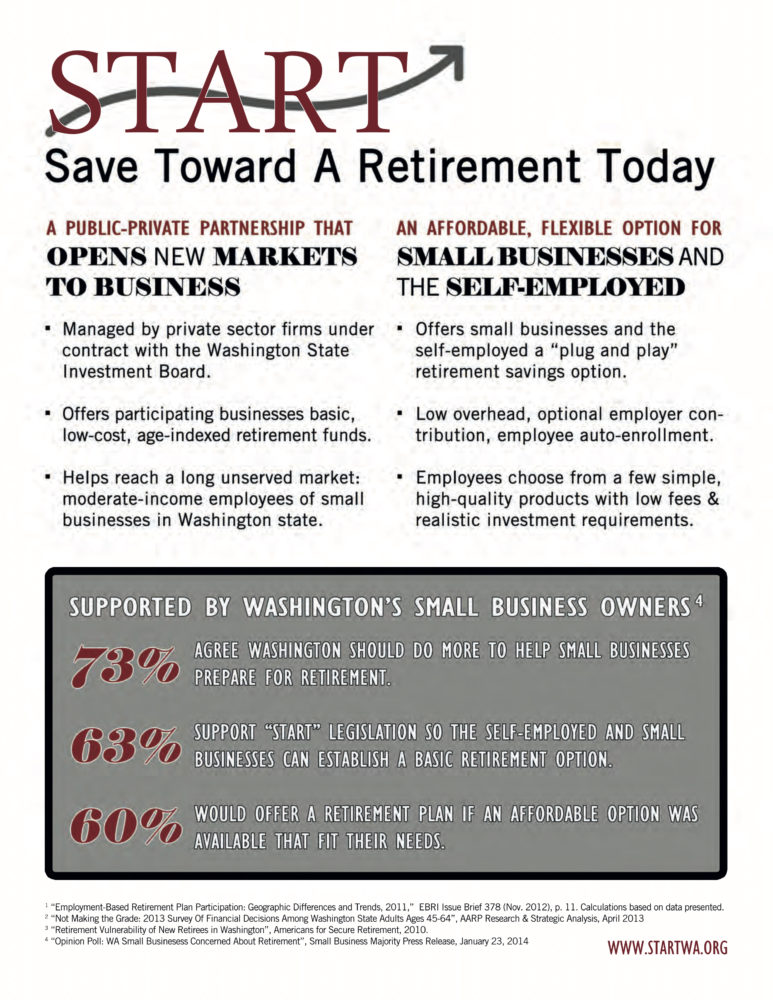 ---
1 "Employment-Based Retirement Plan Participation: Geographic Differences and Trends, 2011," EBRI Issue Brief 378 (Nov. 2012), p. 11. Calculations based on data presented.
2 "Not Making the Grade: 2013 Survey Of Financial Decisions Among Washington State Adults Ages 45-64", AARP Research & Strategic Analysis, April 2013
3 "Retirement Vulnerability of New Retirees in Washington", Americans for Secure Retirement, 2010.
4 "Opinion Poll: WA Small Businesess Concerned About Retirement", Small Business Majority Press Release, January 23, 2014
Retirement Security
June 30, 2023
Join us on July 26th to discuss the future of retirement security in Washington
Retirement Security
November 19, 2021
We're one step closer to a historic and necessary investment in working families
Retirement Security
July 20, 2020
Undercutting Social Security's finances is a first step toward dismantling the program