Meet Aaron and Traci, EOI's New Co-executive Directors!
A new chapter at EOI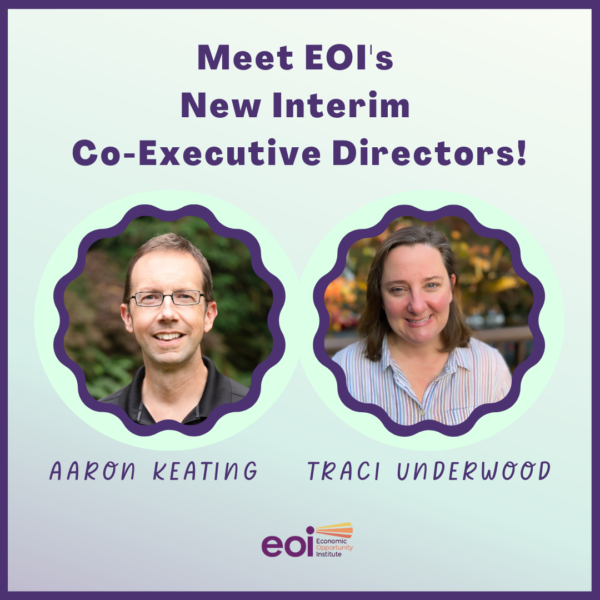 As EOI wraps up a successful 2023 legislative session and plans new policy initiatives for 2024 in the coming months, we're proud to announce Aaron Keating and Traci Underwood as interim co-Executive Directors effective May 1. 
While continuing to manage EOI's ongoing work, Traci and Aaron will be lifting up new ideas for organizational leadership that further deepen our commitment to anti-racism, increase our policy impact, and promote resiliency in the face of continued change. 
Traci joined the EOI team as Policy Director last October. She has over 20 years' experience advancing public policies for economic justice for Washingtonians, and holds a Master of Social Work from the University of Washington. Aaron has worked at EOI for nearly 15 years in multiple roles – including Communications Director, Policy Associate, and most recently Managing Director. He holds a Master of Public Administration from the University of Washington. 
In addition to the skill and experience each brings to the role, both Aaron and Traci have built trust as mentors, partners, and colleagues at EOI. Board President Michael Tamayo notes, "Aaron and Traci bring both significant individual expertise to their roles, as well as very strong relationships with the staff team and our community. Their dedication to EOI has been crucial to our recent successes, and I'm confident that they're the right pair to lead our organization to an even stronger future."
We hope you will join us in celebrating this next chapter for EOI. Stay tuned for more news in the months ahead!
EOI
September 28, 2023
To understand the needs and priorities of our state's different regions, EOI is listening to the people and communities most impacted by our policy priorities.
EOI
June 15, 2023
Thank you for your steadfast solidarity in our pursuit of economic opportunity and justice.