Join us for "Losing By Degrees: Rising Costs and Public Disinvestment in Higher Education"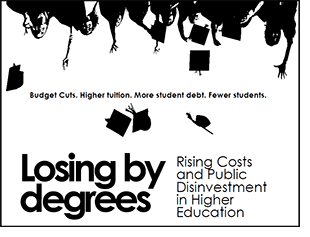 With public funding for state higher education at a 30-year low, how will tuition hikes affect family economic security, workforce development, and Washington's long-term business climate? What new sources of public revenue could increase public investment in higher education, to build a more competitive workforce and improve our business climate?
Sponsored by the University of Washington's Harry Bridges Center for Labor Studies and the Evans School of Public Affairs, "Losing By Degrees" is an informative, timely presentation and discussion about rising tuition and cuts in public funding at Washington's public colleges and universities.
Presented by: Marilyn P. Watkins, Ph. D, Economic Opportunity Institute, Gabriel Nishimura, Masters Candidate, UW School of Social Work
Details: Thursday, October 29th, 4:30 p.m. – 5:30 p.m., University of Washington, Seattle Campus, Parrington Hall Forum (Rm. 309). Download a flyer with all the info here. For more information, contact the Bridges Center at 206-543-7946.
November 27, 2023
Apply by January 5th, 2024
November 21, 2023
This one is personal.
November 9, 2023
What can we really learn about taxes, wealth, and policy from the behavior of one person?