Women gain 6 out of 10 jobs added in November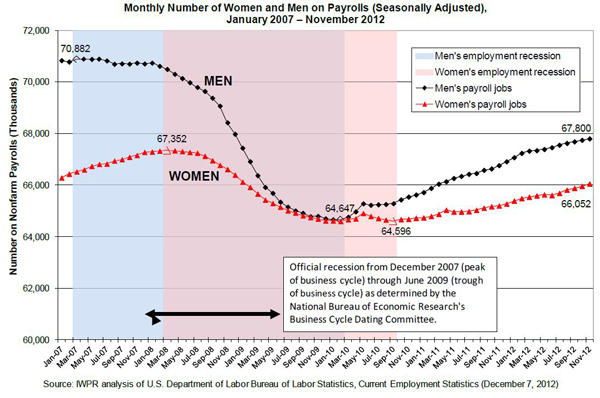 According to an Institute of Women's Policy Research (IWPR) analysis of the November employment report, job growth improved, with 146,000 jobs added to nonfarm payrolls. Job growth was strong for women (91,000 jobs) and men (55,000 jobs). From IWPR:
As of November, women have regained 54 percent (1.5 million) of the total jobs they lost in the recession from December 2007 to the trough for women's employment in September 2010 (2.7 million). The picture looks similar for men: men have regained nearly 52 percent (3.2 million) of the jobs they lost between December 2007 and the trough for men's employment in February 2010 (6.1 million). In the last year, from November 2011 to November 2012, of the 1.9 million jobs added to payrolls, 853,000 or 45 percent were filled by women, and 1,036,000 or 55 percent were filled by men. The gap between women's and men's employment is 1.75 million jobs in November, substantially less than at the start of the recession (3.4 million jobs in December 2007).
Read the full IWPR analysis here.
January 25, 2023
High health care costs are driving Washington workers and families over the edge
December 15, 2022
By strengthening the core pillars of our economy – including child care, health care, educational opportunity, economic security, and our public revenue system – we can diminish economic, racial, and gender inequity.
December 7, 2022
The way our state raises money is not fair. A wealth tax would help right that wrong.