Women gain 6 out of 10 jobs added in November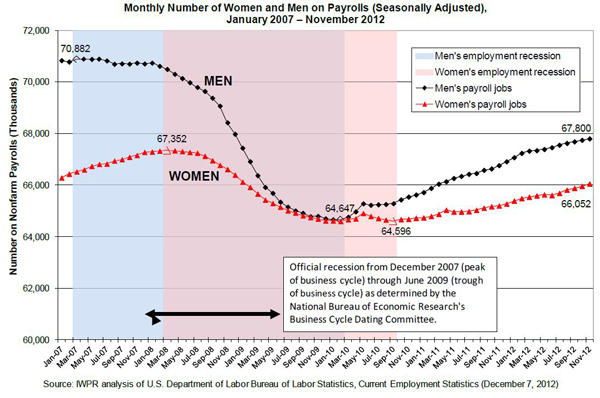 According to an Institute of Women's Policy Research (IWPR) analysis of the November employment report, job growth improved, with 146,000 jobs added to nonfarm payrolls. Job growth was strong for women (91,000 jobs) and men (55,000 jobs). From IWPR:
As of November, women have regained 54 percent (1.5 million) of the total jobs they lost in the recession from December 2007 to the trough for women's employment in September 2010 (2.7 million). The picture looks similar for men: men have regained nearly 52 percent (3.2 million) of the jobs they lost between December 2007 and the trough for men's employment in February 2010 (6.1 million). In the last year, from November 2011 to November 2012, of the 1.9 million jobs added to payrolls, 853,000 or 45 percent were filled by women, and 1,036,000 or 55 percent were filled by men. The gap between women's and men's employment is 1.75 million jobs in November, substantially less than at the start of the recession (3.4 million jobs in December 2007).
Read the full IWPR analysis here.
September 12, 2023
Except billionaires. And even they lose.
September 6, 2023
Thanks to the work of advocates, thousands of Washington workers are already getting a better deal at work
August 24, 2023
Multiple states are also fighting to tax the ultra-wealthy. Why now?