Washington's Equity Gap: Lower tax rates for higher incomes
Excerpted from Washington State Budget 101:
Most states have an income tax that makes their tax system more equitable across all incomes and better ensures public revenues keep up with population and economic growth. That means other states have been able to invest in their people and public structures, while Washington has fallen behind. Washington's rank in K-12 spending fell from 34th to 45th compared to state personal income from 1998 to 2009, according to the U.S. Census Bureau.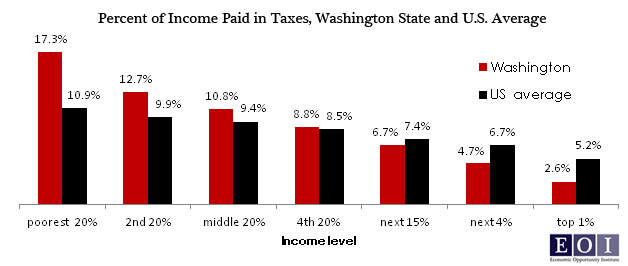 January 25, 2023
High health care costs are driving Washington workers and families over the edge
December 15, 2022
By strengthening the core pillars of our economy – including child care, health care, educational opportunity, economic security, and our public revenue system – we can diminish economic, racial, and gender inequity.
December 7, 2022
The way our state raises money is not fair. A wealth tax would help right that wrong.