Washington's Equity Gap: Lower tax rates for higher incomes
Excerpted from Washington State Budget 101:
Most states have an income tax that makes their tax system more equitable across all incomes and better ensures public revenues keep up with population and economic growth. That means other states have been able to invest in their people and public structures, while Washington has fallen behind. Washington's rank in K-12 spending fell from 34th to 45th compared to state personal income from 1998 to 2009, according to the U.S. Census Bureau.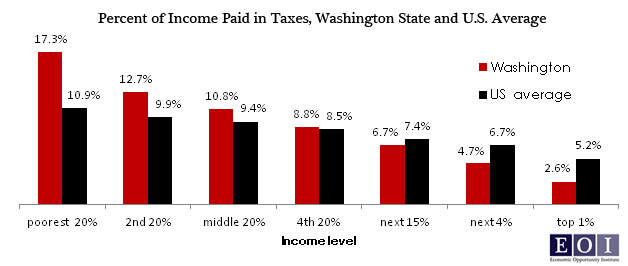 September 28, 2023
To understand the needs and priorities of our state's different regions, EOI is listening to the people and communities most impacted by our policy priorities.
September 12, 2023
Except billionaires. And even they lose.
September 6, 2023
Thanks to the work of advocates, thousands of Washington workers are already getting a better deal at work