The beginning of the end for minority rule? I-1053 found unconstitutional
"No bill shall become a law unless on its final passage the vote be taken by yeas and nays, …and a majority of the members elected to each house be recorded thereon as voting in its favor."
That quote is directly from Washington's Constitution, and was key to a recent court ruling that found Initiative 1053 – which requires a 2/3 supermajority to pass tax increases or end tax exemptions – unconstitutional.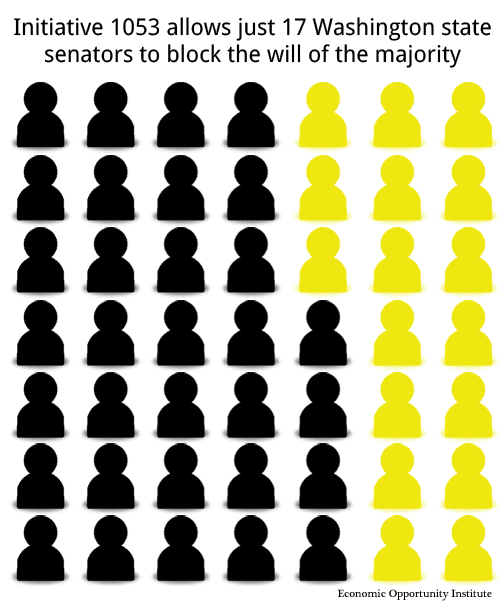 On Wednesday, King County Judge Bruce Heller found the initiative violated the state constitution, ruling: "[Initiative 1053's] supermajority vote requirement violates the simple majority provision of Article II, § 22 of the Washington Constitution, rendering that provision unconstitutional." Given the clarity of our state constitution on this point, the brevity of Judge Heller's 2-page finding (plus signature) is understandable.
But Judge Heller's ruling was not the last word on I-1053. The case now heads to Washington's Supreme Court for what both sides hope will be a final decision before the start of the January legislative session.
The case, brought by the League of Education Voters, the Washington Education Association, state senators and representatives, a former Chief Justice of the Washington Supreme Court, a School Board President, and others, is especially timely.
In January of 2012, Washington's Supreme Court ruled the legislature was in violation of the state constitution by failing to adequately fund public education. Washington's Constitution is also clear on this point as well: "It is the paramount duty of the state to make ample provision for the education of all children residing within its borders…". In the majority opinion, the court found that the legislature has failed to provide ample, stable and dependable funding, and the quality of public education is suffering as a result.
Allowing 17 of 49 state senators to block the will of the majority in legislative matters is undemocratic. Overturning Initiative 1053 is a first step toward allowing the democratic process to function in Washington state, providing the possibility of adequately funding public education, keeping college tuition affordable, and ensuring opportunity for all of Washington's children and residents.
September 28, 2023
To understand the needs and priorities of our state's different regions, EOI is listening to the people and communities most impacted by our policy priorities.
September 12, 2023
Except billionaires. And even they lose.
September 6, 2023
Thanks to the work of advocates, thousands of Washington workers are already getting a better deal at work