A Fair Deal at Work
Equal Pay
Filed Under Blog
I've Been Paid 25 Percent More Because I'm a Man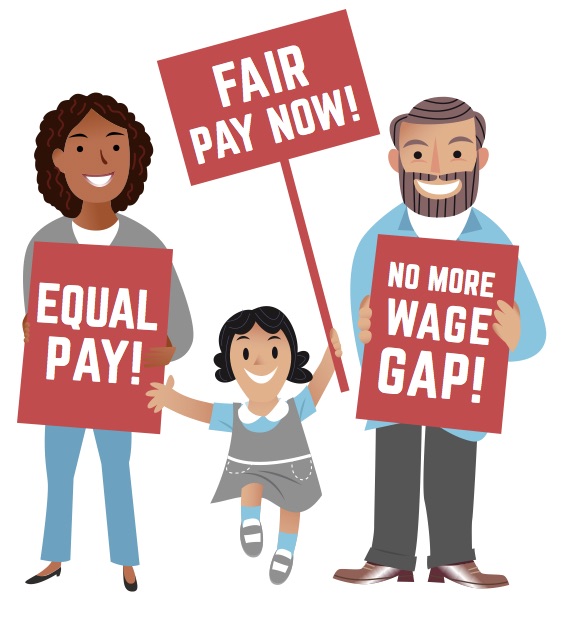 Washington State made wage discrimination based on gender illegal in 1943. But that law has never been amended, and isn't really enforced, so women in Washington still make 76.5 percent of men's earnings. On January 17, a bipartisan supermajority in the Washington House of Representatives passed the Equal Pay Opportunity Act, which has teeth so our state can actually prosecute wage injustice.
An updated equal pay bill is close to passing in the state senate, which has shot down similar bills every year since 2015. And now, a small group of powerful corporate lobbyists are trying to water it down with preemption, preventing further women's rights legislation in the future. It's repugnant that an obviously moral piece of legislation should take four years to pass, and that it should be restricted.
My story: From 2009 to 2013, I worked on a Defense Department anti-terrorism media initiative through one of the nation's largest defense contractors. Finding a journalistic job amid the Great Recession and mass newspaper layoffs was a blessing. Being able to pay off some of my student loans was a godsend.
But a coworker casually said she wasn't having such an easy time – she wanted to have a baby, but didn't think she could afford it.
She asked what I made. Company policy was clear that I wasn't allowed to tell her. She told me she make $48,000 a year. Nevertheless, she persisted, and I grudgingly told her I made $60,000 – 25 percent more than her.
My coworker also had a degree in journalism, and had also reported from the Middle East. We were about the same age and had been with the company the same amount of time.
When I was hired full-time, they offered me $57,000. I said I wanted $63,000. They gave me $60,000. Even though I had negotiated, I was already ahead of her. The company never even offered me something as low as $48,000.
On top of that, we were guaranteed 3 percent raises every year, making my raises always higher than hers, and the cap between our salaries greater.
Our jobs were eerily similar. I translated Arabic news into English stories and sent them to the DoD. After the DoD approved them, she translated the stories back into Arabic to be published in the Middle East.
That difference should not have been worth 20 percent of pay. If anything, she should have been paid more. She was a native speaker of Arabic. My Arabic was very good, but nowhere near fluent.
When she asked management why she was paid less, the company's reaction was swift. We were reprimanded with notes in our permanent records. Our supervisor circulated an office-wide memo saying that anyone discussing their pay put their jobs in jeopardy. We felt publicly shamed and scared.
Yes, the Pay Secrecy Act of 1935 made it sort of illegal for employers from forbidding talk about pay. But it only protects talk of pay for "concerted activities," which generally means union-building. We were not trying to build a union, so were not covered. In 2011, the Institute for Women's Policy Research found that about half of workers report that their companies discourage and/or punish wage discussion.
People also say the federal Equal Pay Act of 1963 outlawed wage discrimination. It sort of did, but it's riddled with loopholes and places the full burden of proof and enforcement on workers. In a 2016 report, economists Francine Blau and Lawrence Kahn of Cornell University concluded that pure discrimination may account for 38 percent of the gender pay gap. Corporations don't stop committing crimes because they're illegal; they stop because the government enforces the law.
The Equal Pay Opportunity Act gives the state government the ability to actually enforce the law. They will protect prohibit companies from imposing pay secrecy policies, and allow Washington to investigate and rule on unfair practices in pay and job opportunities. They will allow people to stand up for equal treatment without being penalized for simply knowing they are paid less.
I left my defense contracting job four years ago, but my coworker is still there. She has been promoted two times and now makes a little more than I did when I left. If I had stayed, I would have made about $100,000 more than her over our time of employment.
I have been made quantitatively richer because I'm a man. That should not be allowed to continue.
A Fair Deal at Work
November 21, 2023
This one is personal.
A Fair Deal at Work
October 31, 2023
Lessons from Oregon as Washington's leaders consider next steps
A Fair Deal at Work
October 26, 2023
The queer community has always been an economic powerhouse - in unions, they found equity and recognition