In Washington, more of us are rich and more of us are poor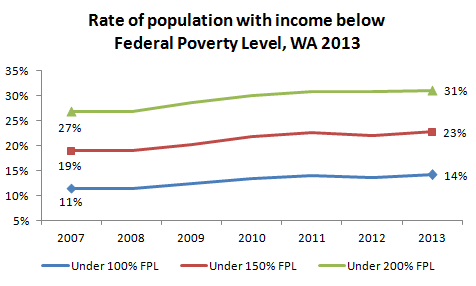 Poverty is growing, median income has barely budged, and more households have 6-figure incomes.
High poverty rates have hardly budged since the height of the Great Recession, according to newly released Census data. Nationally, 14.5% of the population — more than 45 million Americans — earned incomes below the federal poverty level in 2013, half a percentage point lower than in 2012.
Locally though, the data is more grim: Washington is one of 4 states (New Jersey, New Mexico and North Dakota are the others) where poverty rates are increasing. Here, poverty rose from 13.5% in 2012 to 14.1% in 2013 — more than 50,000 people.*
Youth, women and people of color continue to be most likely to live in poverty. Nearly one in five Washingtonians under age 25 is living in poverty, including 19% of children. Fifteen percent of females, and 13% of males, live below the poverty level. In King County, more than one in three Blacks has poverty-level income, along with 27% of Latinos, 12% of Asians, and 9.4% of Whites.
Those at the middle of the income spectrum are doing slightly better. Washington's median household income is up just 1.4% from 2012 to 2013, from $57,573 to $58,405. At the upper end though, the percentage of people earning more than $150,000 annually has increased from 10% to 11%.
These facts — increasing poverty, stagnation in the middle, and more wealth at the top — underscore a now undeniable trend: income inequality is widening, and the recovery from the Great Recession has been inequitable at best here in the Evergreen State.
In Seattle, the economy appears to be booming. Cranes dot the skyline, restaurateurs are opening multiple eateries, and housing prices are reaching new heights. Median incomes increased more than 8% in just a year, but here again, a closer look at the data reveals those at the top are pushing up the median, while the incomes of those at the bottom continue to stagnate.
It's clear there's money to go around. The problem lies in the increasingly inequitable distribution of that money. Our local and state economies have been shaped by laws that benefit the privileged and ignore (or even punish) the less fortunate. While there will always be peaks and valleys in the business cycle, the lows can be buffered by good policy. Implementing policies that give hard-working individuals and families a boost means fewer people struggling to get by and more people helping to grow the economy. After all, we all do better when we all do better.
* Federal Poverty Level (FPL) in 2013 was $12,119 for an individual or $23,834 for a family of four. 150% FPL was $18, 178 for an individual and $35,751 for a family of four. 200% FPL was $24,238 for an individual and $47,668 for a family of four.
September 12, 2023
Except billionaires. And even they lose.
September 6, 2023
Thanks to the work of advocates, thousands of Washington workers are already getting a better deal at work
August 24, 2023
Multiple states are also fighting to tax the ultra-wealthy. Why now?