Paid Sick Days
Filed Under Blog
How Washington's Paid Leave Benefits Queer and BIPOC Families
Under PFML, Chosen Family is Family
What makes a family? Is it genetics, proximity, or a marriage contract? In Washington State, under the Paid Family Medical policy, which EOI has been instrumental in passing and expanding, residents decide what "family" means to them. That means families of all sizes and types can utilize paid leave benefits to care for one another, even if federal laws do not consider them a traditional family.
A critical piece of paid leave is the ability for caregivers to take time off of work. Caretakers can help their loved ones recover, rehabilitate, relocate, or even enter end-of-life proceedings. We know that this is hugely important. Without paid time off for caregiving, individuals must make impossible choices about their own income and financial security. One Center for American Progress report from 2016 found that workers were robbed of more than $20 billion per year in lost wages due to unpaid caregiving activity. This loss of earnings disproportionately impacts lower-income, further widening the existing gap between tiers of workers. As CAP wrote, "any paid leave plan that does not address the myriad reasons other than maternity leave that require workers to take time away from work will fall short of addressing both families' needs as well as the potential economic benefits of a comprehensive program."
Washington's paid leave policy does take these needs into account – and it provides necessary coverage for those who use it.
Paid Leave in Washington State
In Washington, individuals can take paid family leave, including bonding time and military family leave, for a parent, child, spouse, roommate, and, according to the state's website, "someone who has an expectation to rely on you for care—whether you live together or not."
This broad definition is an invaluable resource for Washington's immigrant, BIPOC, and queer communities, who typically have a more expansive definition of "family." From inter-generational living to collective or community-based caretaking, these nontraditional family dynamics are no less real, loving, or deeply bonded. More inclusive language around paid family leave – and who can take it, as well as for what reason – is a way to actively correct the inequitable distribution of workers' rights in our nation.
According to the Center for Budget and Policy Priorities (CBPP), families of color and queer families are the most likely to be left out of the "patchwork" of paid leave policies in the United States, often because the legal definition of "family" is often exclusive.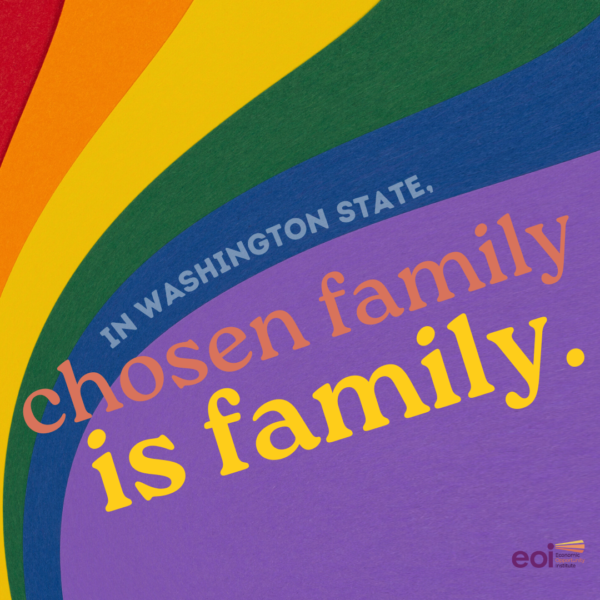 "Workers left behind by our nation's patchwork of unpaid and paid leave policies are more likely to be people of color or in low-paid jobs…Some 11 percent of Black employees and 10 percent of Hispanic employees reported that they needed family or medical leave from work in the past 12 months but could not take it, compared to 6 percent of white workers. Low-paid workers were also more likely to report an unmet need for leave."
What does this kind of inclusive paid leave look like in practice? It may mean caring for an aging aunt or other non-direct relative, or staying home with the child of a close friend when their parent is in the hospital. It may also mean tending to someone who is like family as they recover from surgery.
By providing more expansive, flexible definitions, Washington's paid leave policy allows more people to make use this important resource. In doing so, it represents a step toward closing the larger equity gap.
Why Paid Family Leave Must Include Chosen Families
There is ample historical precedent for the necessity of paid leave for all types of families. We've seen what happens when the real needs of our communities go unmet or ignored by our governing bodies. We've seen people driven into poverty because someone they love has been injured, harmed, or simply grown old. It can happen to any of us, for any number of reasons – and our legal or biological relationships shouldn't dictate who gets care and how.
Many, though, don't know about programs like Washington's paid leave. EOI's Senior Policy Associate, Gabriela Quintana, says that many individuals and families don't realize they have access to these policies.
"Lower-wage workers tend to know less about the program than higher-wage, college educated workers," she explains. Unfortunately, that often means BIPOC and queer folks, who tend to be lower-income, aren't taking advantage of the program. Additionally, LGBTQ folks and other non-traditional families may be worried that they aren't eligible – to which Quintana says, that shouldn't be a concern.
"They should not be afraid to apply. They should qualify as long as they've worked the qualifying hours," she states.
Last year, EOI community member Laura Beal shared her firsthand experience with paid family leave – or rather, a lack of it.
"In 2002, one of my closest friends was diagnosed with AIDS," she told EOI. "…He asked us to take him through his end-of-life. He didn't want to go home and be the stepbrother dying of AIDS. We were his home. We were his family."
There is a deeply-rooted need for chosen family among the LGBTQ community. During the AIDS epidemic, condemnation and contempt drove policies from all levels of government and many individuals. Homophobia and hatred from lawmakers, including then-President Reagan and the so-called "moral majority," drove public policy that ignored and rejected people like Laura's dear friend. Without the support of public health offices or local officials, chosen family like Laura became essential in end-of-life caretaking.  Unfortunately, those caretakers did not receive support, in spite of the essential care they provided.
"Everyone deserves care from a loved one during difficult times," Beal explained. "I believe our government has an obligation to keep its citizens out of poverty just for getting sick, having a child, or the process of a loved one dying."
Paid Leave Policies Must Acknowledge: Family Means Family
This level of coverage for all Washington workers might feel hard to grasp. Critics may wonder why can't we simply define "family" as the Western American culture has for decades? And the simple answer is: Because these families already exist – and have existed forever. This historical context is critical for understanding the needs of nontraditional families now. The well-documented harm of exclusionary policies is too obvious to ignore.  What's new is that in Washington, caretakers can take paid time off to help their loved ones, even if they're not related by blood or marriage.
Families look different to different people and different communities or cultures. By prescribing who is "family," lawmakers are inserting themselves into the personal lives of residents. By failing to provide paid leave at all, they are abandoning their duties to take care of the people they represent. Fortunately, here in Washington, paid leave is something we got right.
Paid Sick Days
June 29, 2023
Under PFML, Chosen Family is Family
Paid Sick Days
February 11, 2022
As we head into year three of the pandemic, investments in the child care workforce are much-needed and long overdue
Paid Sick Days
August 24, 2021
The U.S. Congress is working out the details of a Human and Care Infrastructure package that will make major investments in childcare, health care, paid family and medical leave and more