Seattle's paid sick and safe time ordinance promotes safer families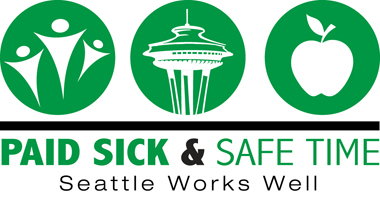 October is Domestic Violence Awareness Month, and the Seattle Office of Labor Standards is highlighting the safe time provisions of Seattle's Paid Sick and Safe Time (PSST) law.
You can download new flier about safe time protections to educate your co-workers, family, neighbors, and sister organizations. Available in English or Spanish.
Here in Seattle and King County, many organizations provide support to people affected by safety issues such as domestic violence, sexual assault and stalking.
Visit the Office of Labor Standards website or Twitter page to find community resources for:
Domestic Violence
Sexual Assault
Legal Help
Learn more about Seattle's Paid Sick and Safe Time law at: http://www.seattle.gov/laborstandards/paid-sick-and-safe-time
January 10, 2019
We look forward to the legal review of the Court of Appeals and ultimately the State Supreme Court
January 8, 2019
Cascade Care ensures that Washingtonians pay no more than 10% of their income on health premiums
January 2, 2019
Paid family and medical leave is about to get real in Washington!