2020 Virtual Changemakers Dinner
Registration now open!
Tuesday, September 15th
6:00pm – 7:30pm
Online
Join us for all the joy and community of our annual Changemakers Dinner, but this year from the comfort of your own home!
Event Details:
6:00pm – 6:30 pm: Virtual cocktail hour and games
Hop into a virtual event space and mix and mingle like you would in person! You'll be able to choose who you talk to, where you sit, and what games you want to play.
6:30pm – 7:15pm: Event program
Enjoy a dynamic and engaging event program including presentations from EOI staff and board members, local artists, award recipients, and more!
*Note: Dinner and drinks are available for preorder through September 7th! Enjoy a delicious meal while you take in the event, delivered right to your door! Click here to view our menu. To order dinner, select the VIP ticket option and fill out your meal preferences on the following page. 
Program Details:
Keynote Speaker – Nikkita Oliver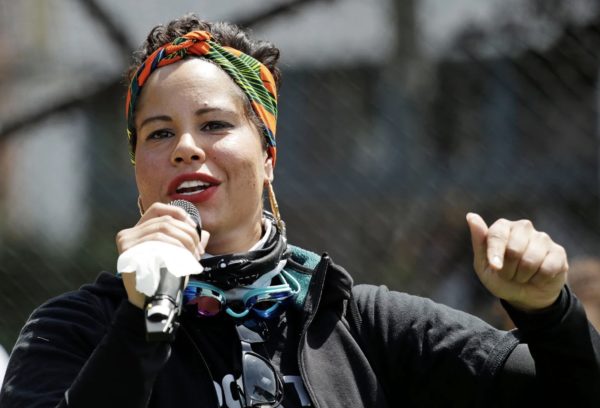 Nikkita Oliver is a Seattle-based creative, community organizer, abolitionist, educator, and attorney. Working at the intersections of arts, law, education, and community organizing she strives to create experiences which draw us closer to our humanity and invites us to imagine what we hope to see in the future.
She has opened for Cornel West and Chuck D of Public Enemy, featured on the Breakfast Club, KUOW's The Week in Review, Cut Stories, and performed on The Late Night Show with Stephen Colbert. Her writing has been published in the South Seattle Emerald, Crosscut, the Establishment, Last Real Indians, The Seattle Weekly, and The Stranger. She organizes with No New Youth Jail and the Seattle Peoples Party.
Nikkita is the co-executive director of Creative Justice, an arts-based alternative to incarceration and a healing engaged youth-led community-based program. Nikkita was the first political candidate of the Seattle Peoples Party running for Mayor of Seattle in 2017 narrowly missing the general election by approximately 1,100 votes; coming in third of 21 candidates.
Nikkita speaks and performs for events, at universities and conferences, and facilitates trainings on equity, law and justice, education, and arts activism all over the United States.
Follow on IG and Twitter @nikkitaoliver
MC – April Sims
April Sims was elected Secretary Treasurer of the Washington State Labor Council, AFL-CIO by its affiliated unions in December 2018. She is the first woman of color to be elected as a WSLC executive officer. April has served as the WSLC's Political and Strategic Campaign Director since November 2017, working to develop shared agendas with labor and community partners, to advance strategic organizing campaigns, and to recruit, train and elect political champions for working people. She first joined the WSLC in September 2015 as Field Mobilization Director. Prior to joining the WSLC staff, Sims served as the Legislative and Political Action Field Coordinator for the Washington Federation of State Employees, AFSCME Council 28 (WFSE). She was a WFSE member, shop steward, elected union officer, and union staffer from 2002-15.
Stay tuned for more event updates!
Have questions? We're standing by to answer them! Reach out to Melanie Mazza, Development Manager at melanie@opportunityinstitute.org or (206) 529-6350.
Interested in sponsoring this event? Power our work toward justice while connecting with our audience and enjoying additional event benefits for yourself and guests! Click here to download our 2020 Sponsorship Form, and explore our different sponsorship levels and benefits. When you're ready to secure your sponsorship or you have questions, reach out to Melanie at melanie@opportunityinstitute.org or (206) 529-6350.
With thanks to our generous sponsors, including:
Organizer Sponsors
Advocate Sponsors